2018 5Dimes Review
2018 5Dimes Sportsbook Review
Below is an honest review of the 5Dimes Sportsbook, a brief history of 5Dimes , and what you can expect when using them as your online betting site.
This 5Dimes Sportsbook review will be updated frequently.
---
Who are 5Dimes?
Founded in 1996 and based in Costa Rica, 5Dimes is one of the oldest online sportsbooks.
5Dimes are known primarily for their extensive Sportsbook, however they offer an array of nice casino, poker and bingo hall options if that's your thing (it's not ours, so we will steer clear of that in the 5Dimes review). What we should say is that they shouldn't be pigeion-holed as a Sportsbook only.
The 5Dimes sportsbook draw-card is their offering of Reduced Juice betting, which offered less juice/vig/house edge on their lines (we'll elaborate below).
The first thing you'll notice when visiting their site, is that it looks like it was made 20 years ago (it was).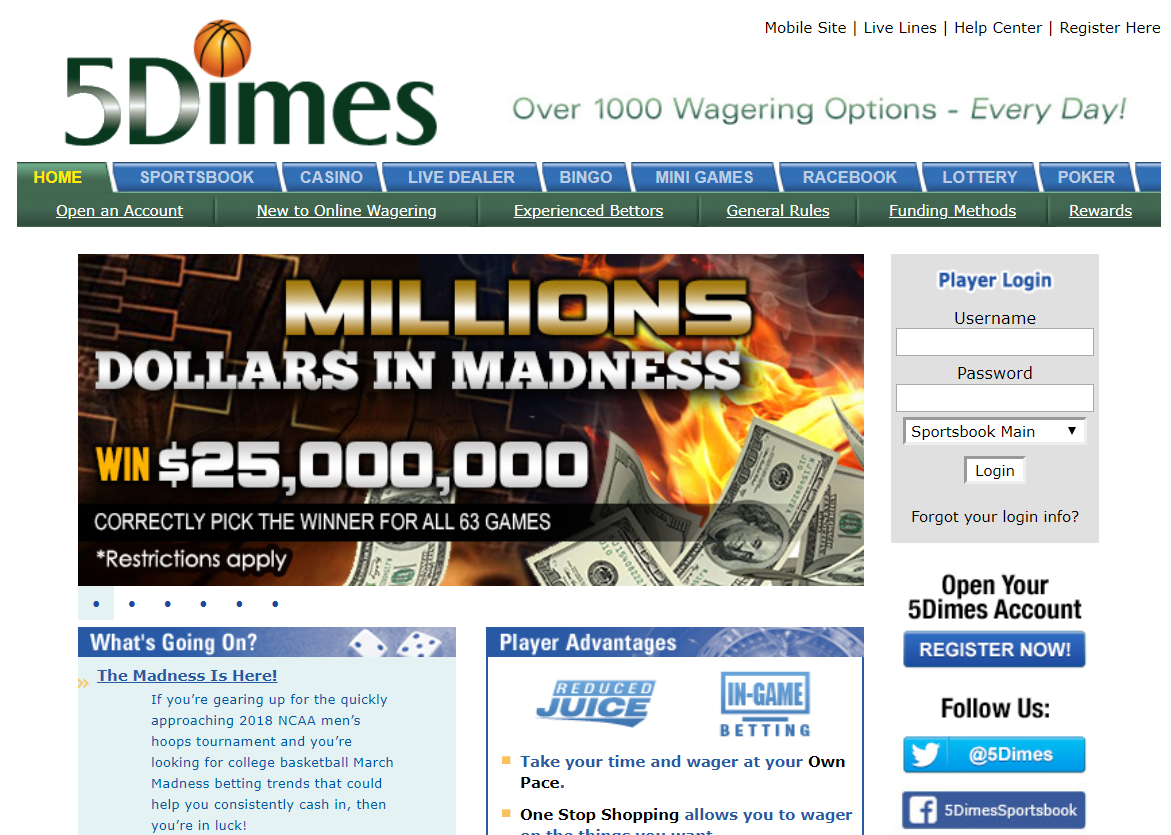 Don't let the outdated web design discourage you however, it's no the look you come for, it's the markets and odds.
5Dimes also have a gret initiative called the "5Dimes Cares Initiative", where they support many charitable organizations. It's nice to see a wagering site give back to the community that they work in.
---
The 5Dimes Sportsbook
The vast majority of the 5Dimes client base is from the USA, however they do offer overseas action. 5Dimes place a heavy focus on North American sports but have a wide vatiety of international sports markets.
The most action is on the major US sports, such as the NBA, NFL, MLB and NHL, along with college sports such as the NCAA and its major tournaments such as March Madness, all having extensive betting markets.
All of the world's top soccer league's are available, including the EPL, Italian Serie A, German Bundesliga and Spanish La Liga. This also extends into domestic leagues of Asia and South America.
---
An massive amount of markets on offer
5Dimes have betting markets available for pretty much any sport.
Motor racing, golf, rugby , boxing, mixed martial arts, tennis, cricket, and more, most of them with futures and a small list of prop markets available.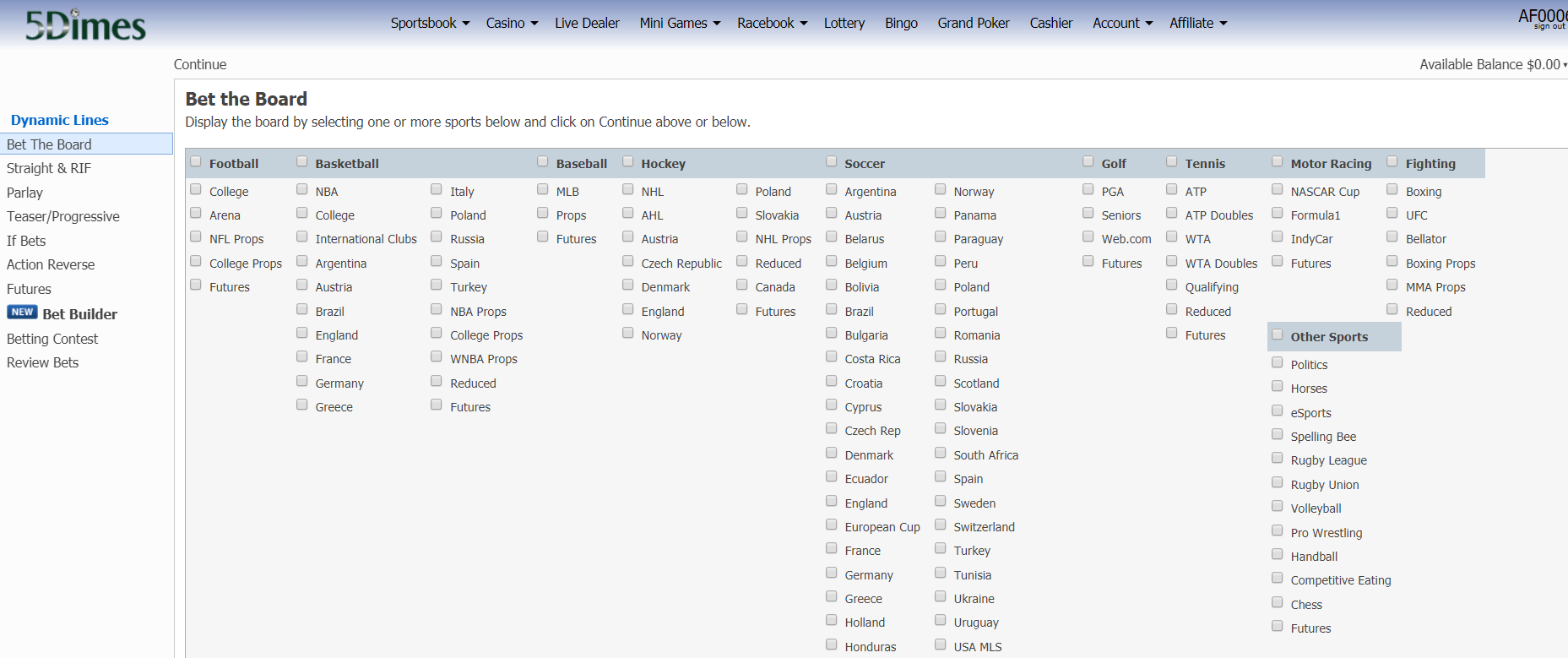 The majority of legal U.S sportsbooks don't come close to matching 5Dimes for sheer market volume.
Along with from straight bets, teasers and parlays, 5Dimes also offer many other betting markets, including a large variety  of player and team props, futures markets, action reverses and if-betting. 5Dimes has more alternative lines than any other online sportsbook. Alternative moneylines, point spreads, teasers and pleasers, are also available.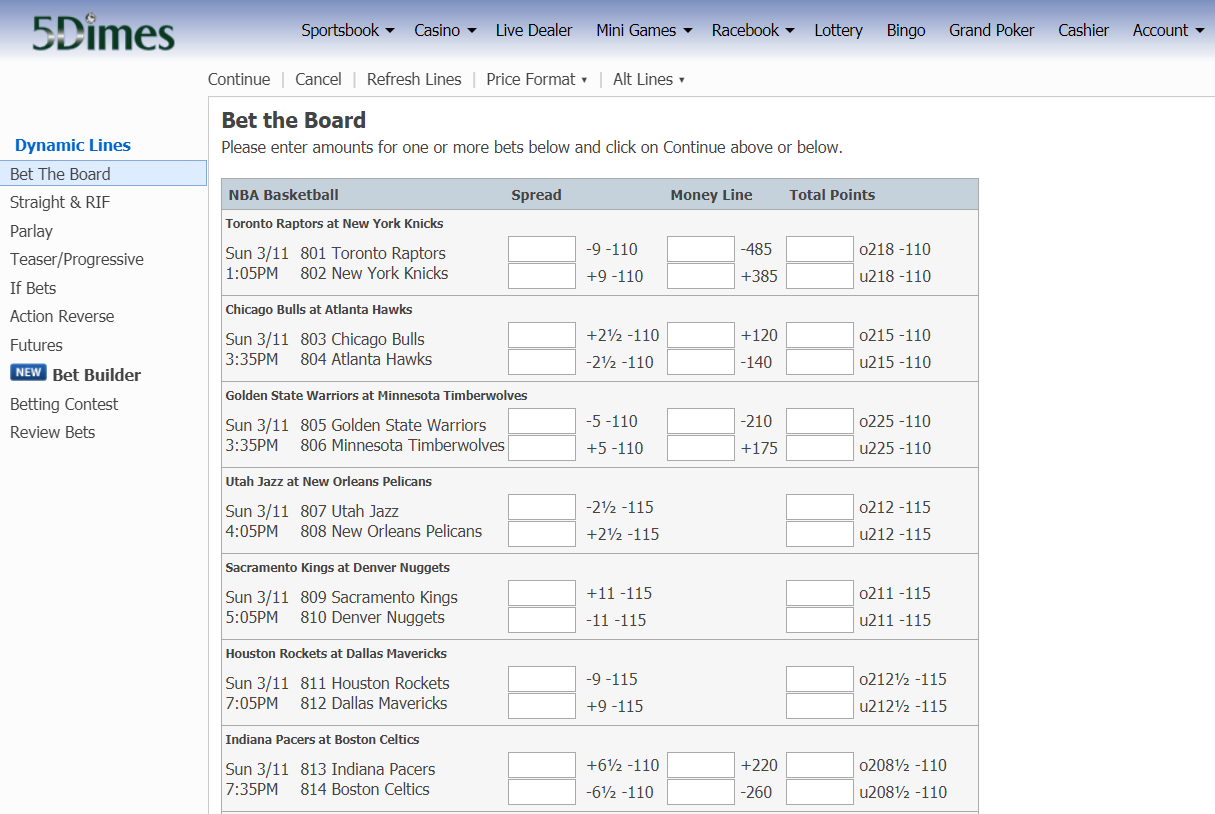 DynamicLines are a nice feature that was added in late 2015. Players can still use their traditional betting menu and software, but once they use DynamicLines it's hard to go back to convention.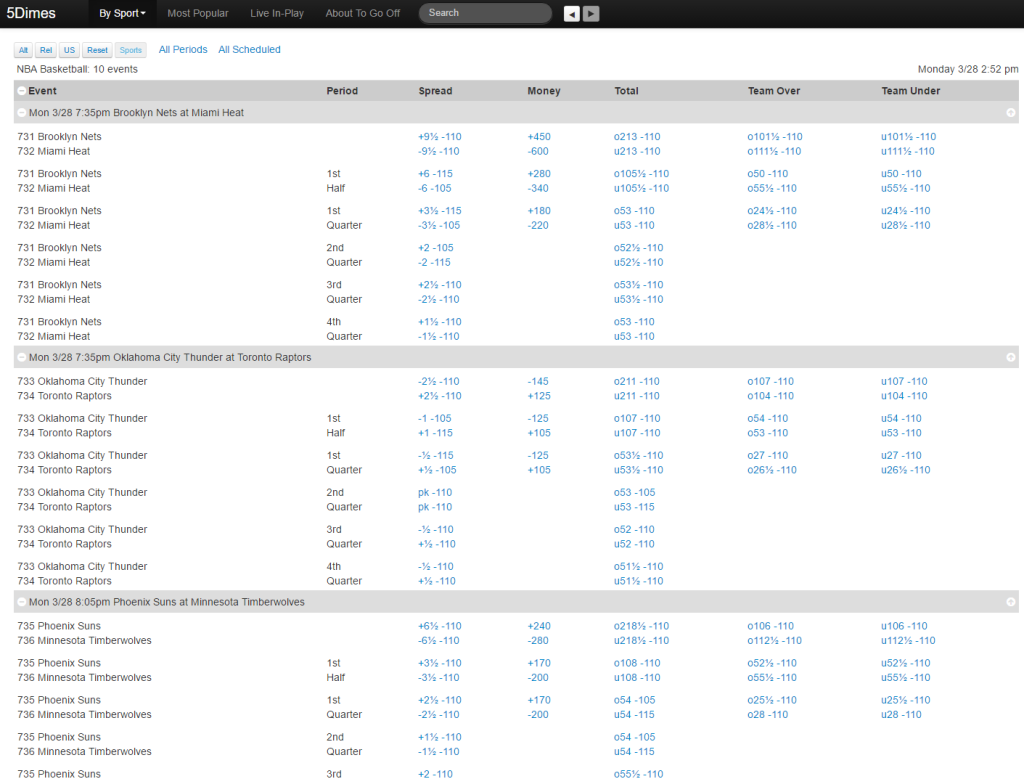 Their Live Betting lacks the flair that you will find at some other online sportsbooks, however it does the job.
To find the in-play betting markets available, just click on the sportsbook link and then select the live-action option. You'll then be taken to a page showing all of the current in-play action available.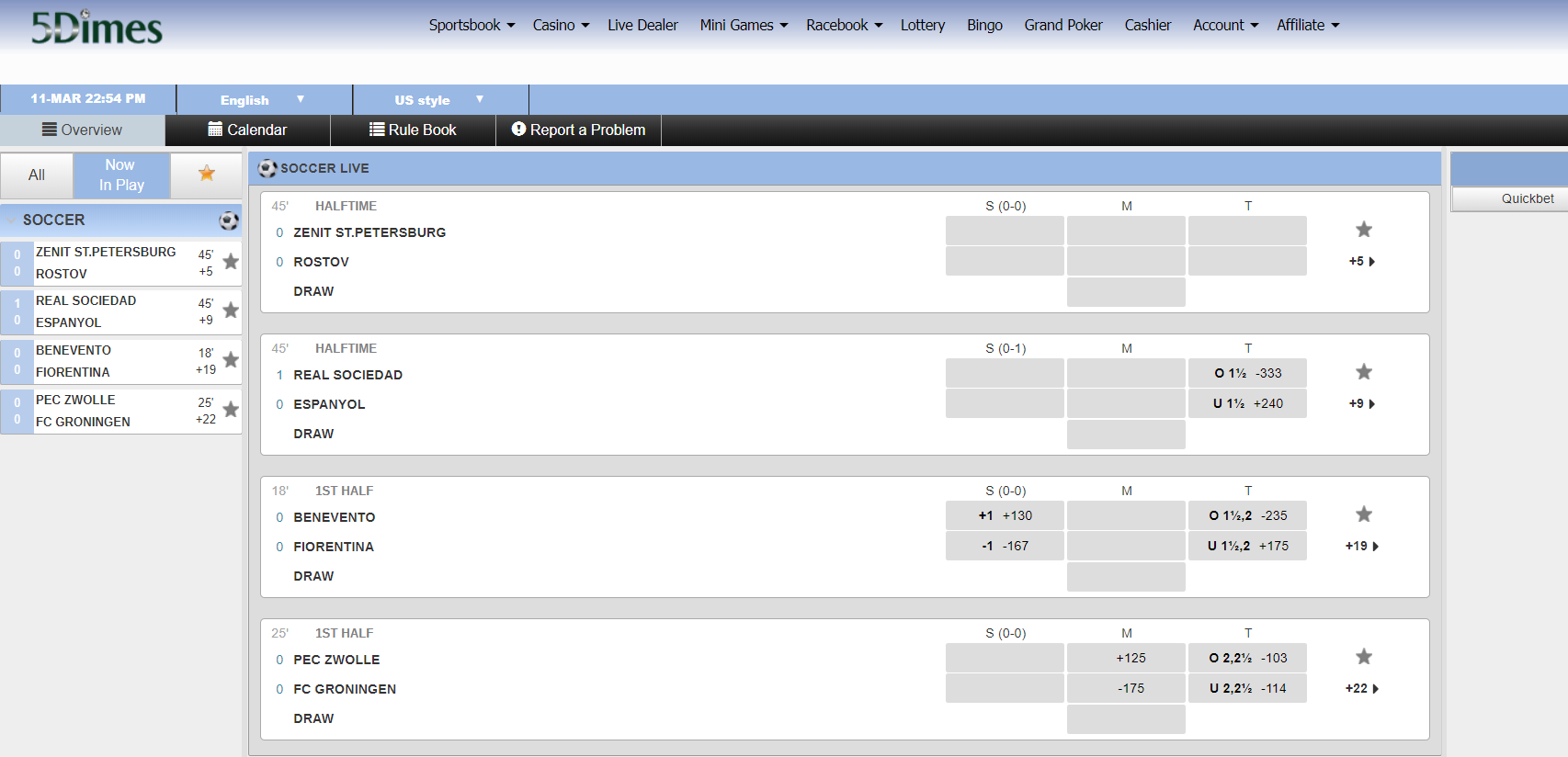 ---
Betting Limits
5Dimes accepts bets as low at $0.50 and as high as $5,000 on sides and totals of the larger markets, including NFL, NBA, NHL, MLB and the major college sports.
Small market sports will have limits lower than $5,000. Props usually have a max bet of $250 – $500, however some special props can have a max bet of $50.
To some degree, 5Dimes offers no max betting limit. After a bettor bets the max amount, ($5,000 for major sports markets) the odds will reset, and bettors will once again be allowed to wager further. There is no max  number of times a player can reset the betting limits. The odds will of course adjust, (a lot if done multiple times) but bets will continue to be accepted by 5Dimes.
Over the phone – 
$500 minimum deposit.
$50 minimum for straight wagers.
$25 minimum wager on parlays, teasers, pleasers and futures.
$100 minimum wager on open parlays.
Online – 
50¢ minimum on all exotic wagers.
50¢ straight bet minimum.
$50 minimum deposit.
---
Deposits and Withdrawals
DEPOSITS –
Credit/Debit Cards – Limits of $50 to $500 per deposit. No fees.
Money Order – Limits $100 to $1,000 per deposit. Deposits are credited within 12 hours. No fees.
Sportsbook Transfer – The minimum deposit is $500. No fees.
Account to Account Transfer – The minimum deposit is $50. No fees.
Bitcoin – Bitcoin Deposit limits are $25 to $10,000. No fees.
Person to Person Transactions – Fees from $5.00 – $30.00. 5Dimes covers fees on deposits of $250 and over. Limits are $100 to $750 per deposit (depending which option you select). You're limited to one transaction every eight days. Each deposit takes 20-40 mins to be visible in your account once confirmation is received from their end.
WITHDRAWALS –
Money Order – Fees are $80. Limits are $1,000 to $9,500. Sent within 24-48 hours after request.
Cashier Cheques – Fees are $40, $60 or $80 depending on amount. Limits are $1,000 to $7,500. Cheques are sent 24-48 hrs after the request is made. You can request 1 cheque every 7 days.
Sportsbook Transfer – No fees. Minimum transfer of $500.
Bitcoin – No fees. Withdrawal limits are $50 to $10,000 unless you exclusively deposit by bitcoin. Then there's no limit to the cash out amount.
Bank Wire – $80 fee on top of any fees your bank may charge. Limits are $1,000 to $9,500. Take 4-6 days to hit your account.
Account to Account Transfer – No fees. Minimum withdrawal of $50.
Person to Person – Fees range from $10 to $25. The max cash out is $350. The time is 2-3 days before receive the reference # you need for pick up.
5Dimes offers 1 free payout every 30 days up to $40 or less, with a great reputation for paying their customers within a reasonable time for all methods.
---
Mobile Betting
Mobile betting has become increasingly popular over the past few years, and although an app isn't available for 5Dimes, they do have a functional responsive site.
Even though 5Dimes did update their mobile platform, it still does not have a very Microsoft Excel look on a mobile phone. The image to the rightshows exactly what the betting board looks like on a phone.
If zooming in and out of your phone's browser doesn't annoy you too much, then you may not have too many issues with 5Dimes mobile betting. We can't say that we fell in love with it, but it does serve it's purpose. Just don't expect the ease of use that you will have on your desktop.
Actually, the mobile site is quite functional, but it just doesn't have the aesthetic feel of a great mobile sportsbook site.
---
5Dimes SportsBook Promotions
Below we list out 5Dimes' Sportsbook offers.
Here are 1 thing you must remember –
You are only able to select one promotion/bonus upon sign-up, this cannot be reversed or changed. This includes their reduced juice and deposit bonus offers. Signing up for one eliminates the others. Take Reduced Juice for better odds in the long run in our opinion.
The more time in your online sports betting, the more we suggest Reduced Juice.
Reduced Juice – 
Reduced Juice is their biggest selling point. Sportsbook standards for commission or "juice/vigorish" is to risk $110 to win $100 (or variations of that, like $1.10 to win $1). 5Dimes reduces their juice for most of their sportsbook markets.
The "juice" is reduced to -105 – or half off. This means that you're only wagering $105 to win $100.
Reduced juice betting limits are $1 to $500 and are only available online.
50% New Player Deposit Bonus – 
Claim up to $520 as a first deposit bonus. You can claim up to $200 if your first deposit is $400 or less. However, if you deposit between $400 and $2,000, this can increase.
| | | | |
| --- | --- | --- | --- |
| | 50% Bonus |  + 20% Bonus | |
| $100 | $50 | – | $50 |
| $400 | $200 | – | $200 |
| $500 | $200 | $20 | $220 |
| $1,000 | $20 | $120 | $320 |
| $2,000 | $200 | $320 | $520 |
You will get 20% extra by depositing over $500.
Cash Back – 
You'll can claim up to 20% cash back on your losses.
How much you can claim depends on your frequency of Cash Back requests.
To receive 20% – Make a request on your total losses twice per year.
To receive 15% – Make a request on your total losses once every 30 days.
To receive 10% – Make a request on your total losses once per week on Tuesdays.
To receive 5% – Make a request on your total losses once per week on any other day than Tuesday.
Once you select an option, you'll be locked in for that option and any option beneath it.
What does that mean? – If you select 15%, you're only able to get the 15%, 10% and 5% options. If you select 10%, you can get only that or the 5% option etc…
Free Play Reward – 
This is a reload/deposit bonus which occurs each time you deposit funds. You'll receive up to $500 when depositing $100 to $2,500 in your 5Dimes account. The bonus is 20% unless you deposit $250 or less – in which case your bonus will be a flat $40.
Free-Play Bonus Chart
Deposit Method
Reload Amount
Reward Value
Credit Card
$250
$50
Person to Person
$2,500
$500
Bitcoins
$500
$100
Bet your deposit once to earn 20% of your reward. Do this four more times to collect the remainder. Note that bets placed in the Live Betting Extra or Live Betting Ultra sections will not count.
Rebate – 
Claim rebates of up to 9% on your daily sports betting volume every day, win or lose. There are no min or max daily volume requirements on how much you can claim in rebates.
---
Our Final Verdict
There are many reasons why 5Dimes can be considered one of the best legal online sportsbooks available to U.S residents.
There are very few online sportsbooks that can rival 5Dimes when it comes to sheer volumes of markets, and the option of Reduced Juice betting and a long standing sportsbook kistory, we wouldn't hesitate to promote 5Dimes as a premium option as a legal sportsbook for USA residents.
Pros / Cons
Reduced Juice Betting available
A huge variety of markets available
Payouts are always on time
Large range of deposit and withdrawal methods
Mobile site is a little hard to use
Website could use some updating

Enjoy Reduced Juice for the best odds 24/7!
Play now