2018 BetOnline Review
2018 BetOnline Sportsbook Review
Below is a current review of the BetOnline Sportsbook, a short history of BetOnline, and what you can expect when using BetOnline as your online sports betting site.
This BetOnline review will be updated frequently.
---
Who are BetOnline?
Known for their sportsbook, BetOnline is an "all-in-one" online wagering/gambling site, also offering casino and poker gaming. Operating since since 2004, they are licensed in Panama.
If you're curious about the .ag domain address, the site originally started as BetOnline.com but changed to .ag in 2012 due to increased pressure from the Department of Justice (who seized multiple .com gambling domains back in 2011). BetOnline and many other wagering sites took steps to avoided this and changed domain names.
The only time that BetOnline have found themselves in trouble was back in 2011 when problems were occurring during new the launch of their poker site (we'll dig into this a little later on).
BetOnline have a sister site, SportsBetting.ag, who they acquired in 2012.
---
The BetOnline Sportsbook
BetOnline offers their sportsbook legally to all 50 states of the USA with a heavy focus on American sports, however there are worldwide sports leagues available to bet on. The most action is on the major US sports including NBA, NFL, MLB and NHL, with college sports and their major tournaments such as March Madness having a major focus.
The world's top tier soccer league's are available, including the EPL, Italian Serie A, German Bundesliga and Spanish La Liga. This also extends into leagues of Asia and South America.
---
A large variety of sportsbook markets
BetOnline have betting markets available for pretty much any sport.
Motor racing, golf, rugby, boxing, mixed martial arts, tennis, cricket, and more, most of them with futures and prop markets available.
The betting markets will satisfy the new and experienced sports bettors, and their live betting options are sufficient.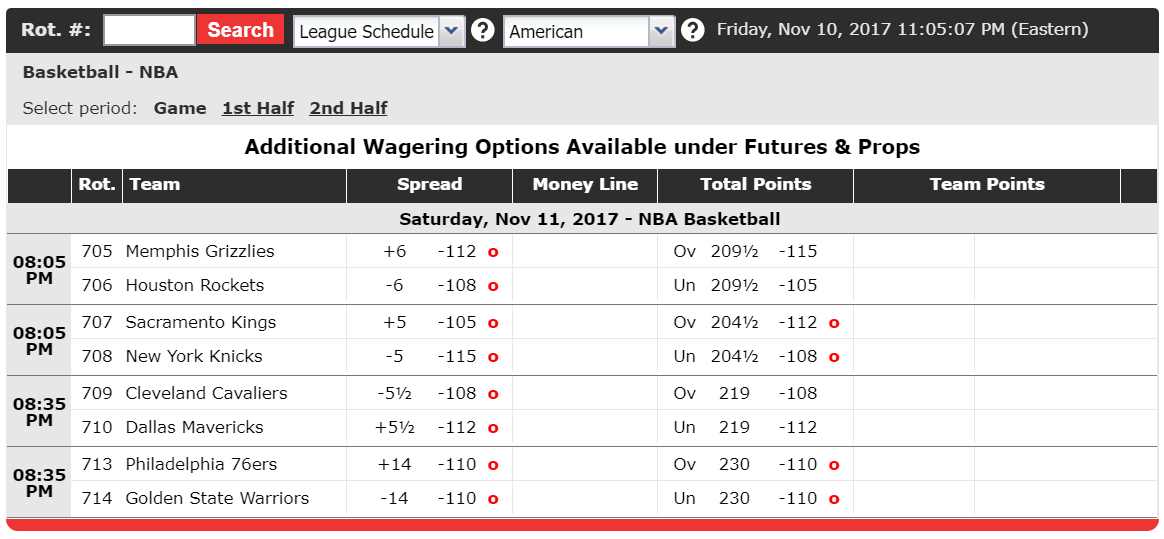 BetOnline posts betting markets faster than many of their competitors (Bovada, the largest  legal US gambling site, is much slower) which is handy for those of us who like to get our bets out into the world early.
BetOnline's sportsbook has achieved popularity in the States by being reliable and appealing to its target market with seasonal promotions and local betting lines. This is one of the main reasons we rank them in our top-3 of American-friendly gambling sites.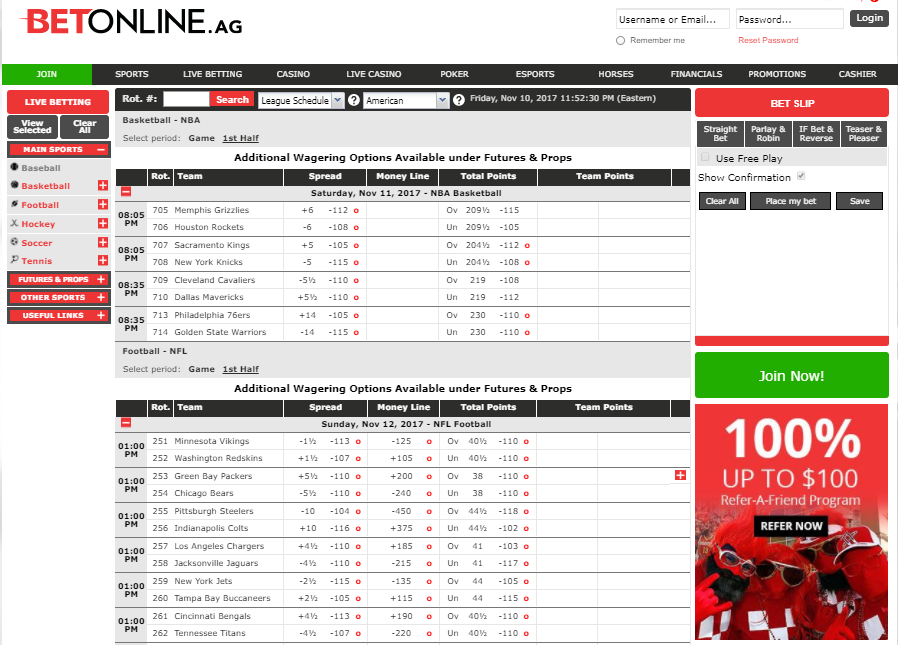 Player Props Betting
One of the most creative products in online sports betting.
With BetOnlines Player Props product, each sport will include their own statistical categories, but not all players for each game are shown, as it's necessary to wait until just a couple of hours before starting time to see the final team lineups… also some players are not worth including in markets.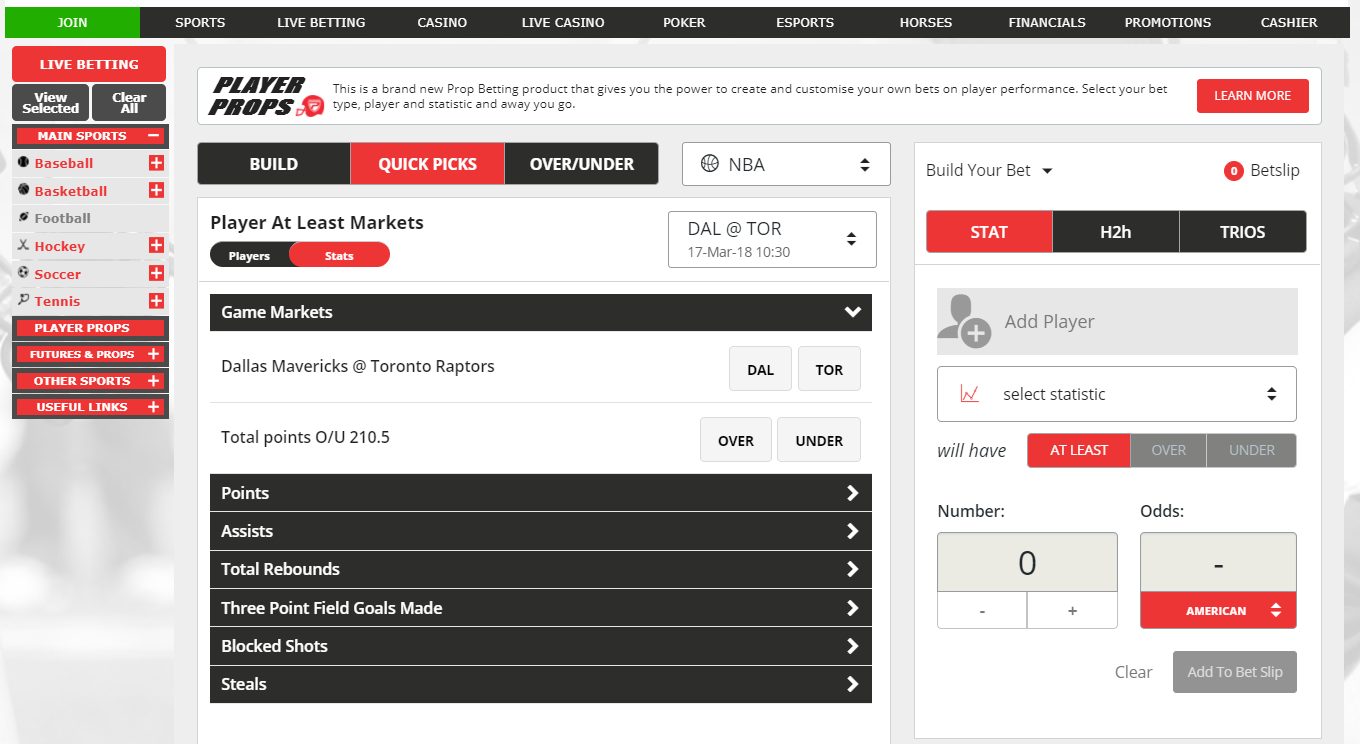 For an NBA example, shown above, there are basically 3 different types of bets that you are able to take, we'll us Points for this example:
'Head to Head' Player Bet – Player A will score more points than Player B
'Head to Head to Head' Player Bet – Player A will score more points than Player B and Player C.
Combined 'Statistic' Player Bet – Player A + Player B will score X amount of points.
Single 'Statistic' Player Bet – Select a single player to score a certain number of points.
There are different variants of these markets for each sport.
An awesome product is a fantastic betting experience for those who enjoy the excitement of player prop betting
Worth registering with BetOnline for this product alone.
---
Betting Limits
BetOnline ranks among the middle-tier within sportsbooks available to US residents.
With a minimum betting limit of $1 and maximum betting limits up to $25,000, they're able to facilitate bettors ranging from smaller bankrolls to high rollers. NBA betting limits go up to $10,000 (sides) and $5,000 (moneylines and totals), NHL bets max. at $3,000.
Smaller betting markets may have caps of just a few hundred dollars, but this is not unusual.
---
Deposits and Withdrawals
DEPOSITS –
BetOnline accept credit and debit cards by Visa, Mastercard, Bitcoin, JCB and Diner's Club (Amex deposits are accepted but you need to have deposited at 5 or more times to use this option) in addition to "Visa via Person to Person" and secured Visa payment vouchers.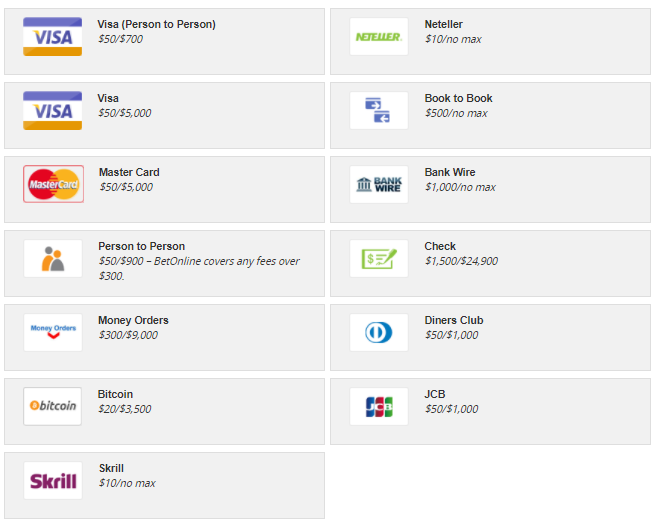 Credit Card deposits have a 6% deposit fee, and BetOnline are one of the only USA sites charging fees for card deposits (the other is Bovada at 4.9% deposit fee). Booooo.
WITHDRAWALS –
You can request a withdrawal to your credit card only after making at at least five deposits, and having your players account active for a month of longer.
Many USA-friendly sports betting websites cover the costs for at least one cheque withdrawal per month, unfortunately this is not something BetOnline offer at this moment in time. They will charge a $25 fee per standard cheque or $50 if you want the check to be delivered within 7 business days.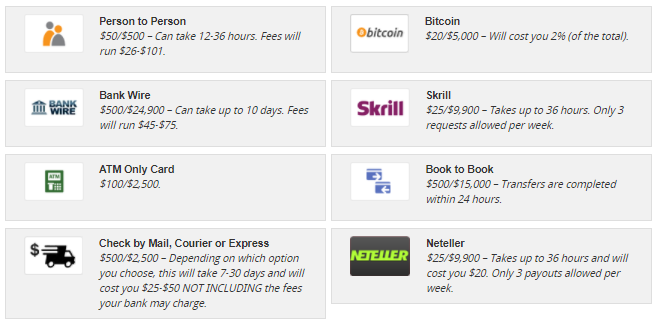 Although they say nothing about it on their website, some reports suggest BetOnline gives you a $50 credit every month if you put in your Cashout request on a Friday.
---
Mobile Betting
The BetOnline mobile site is up there with the best in the business.
The design and functionality all seem to make betting easy on our Android-based smartphone. The menus are all well displayed and it is easy to jump between sports and markets. It could be argued that it's easier to place a bet on their mobile site than it is their web site.
The only competition to the BetOnline mobile sportsbook would be the Bovada mobile site. We give both of them high marks and it is difficult to pick a winner between the two.
A great example of how mobile wagering should be.
---
BetOnline SportsBook Promotions
New customers will get a 50% deposit bonus up to $2,500 on their first deposit (minimum $50 to qualify for the Bonus). The bonus has a x10 rollover requirement and you need to use the bonus code.
Along with the first deposit bonus, you can also get bonuses for live betting ($25) and mobile betting ($50). These function different from the usual first-time deposit bonuses, as you'll get the bonus money only in case you lose (so basically they'll reimburse your bet in case you lose).
There is also a 25% Lifetime Recharge Bonus up to $1,000 on each deposit you make. Pretty good deal there.
---
Our Final Verdict
The biggest issue for us is BetOnline's banking fees. Not only do you pay fees for every option – including bitcoin – their fees are pretty high. The flip side is that they offer $50 credits once per month if you turn in your withdrawal request on a Friday.
When you consider that BetOnline offer 3 products (sports, casino, poker), accept customers from all 50 U.S states, and have picked themselves up from shaky beginnings to turn things around and become a respected and secure online sports betting site is a good sign that they are constantly improving.
Generous first deposit offers and a 50% Recharge Bonus on each deposit up to $1,000. Very nice.
Pros / Cons
Fantastic mobile betting interface
Industry leading deposit bonus up to $2,500
Recharge bonus up to $1,000 on every deposit
Withdrawal fees
Site has been known to go "Down for maintenance" a little too often

50% up to $2,500 Deposit Bonus
Play now