2018 Bookmaker.eu Review
2018 Bookmaker.eu Sportsbook Review
Below is an honest review of the Bookmaker.eu sportsbook, a brief history of Bookmaker.eu, and what you can expect when using them as your online betting site.
This Bookmaker.eu sportsbook review will be updated as changes to the site and brand are made..
---
Who are Bookmaker.eu?
Bookmaker.eu is one of the oldest wagering websites in the world.
The history of Bookmaker goes all the way back to 1985 (with their first online betting venture starting in 1996), and nowadays www.bookmaker.eu is known as a trustworthy sportsbook, that is legal for U.S residents.
They are the only sportsbook providing the US market with a policy of no personal limit collars, regardless of a player's winning history.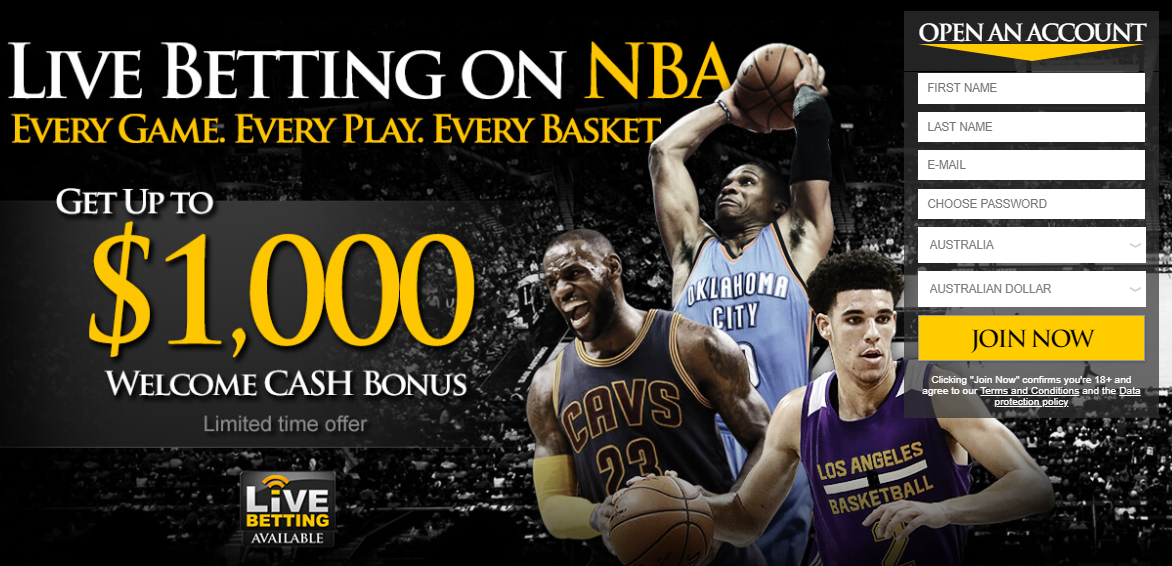 However Bookmaker is not JUST for the professionals bettors; they offer $1 bets as well for those new to online sports betting and those who just like to have a flutter every now and then.
---
The Bookmaker.eu Sportsbook
Bookmaker is known for throwing up their betting lines early, but they are also known for their sharp lines (a negative thing). You'll may find that betting lines earlier at Bookmaker.eu, but the odds are likely worse than what some other sites are going to offer a little later on. They're probably just playing it safe early.
---
An massive amount of markets on offer
Bookmaker.eu have betting markets available for pretty much any sport, with a heavy focus on American markets, and perhaps lacking a little on the international side.
| | | |
| --- | --- | --- |
| Basketball | Golf | Cricket |
| Baseball | Martial Arts | Aussie Rules |
| Soccer | Boxing | Surfing |
| Hockey | Horse Racing | eSports |
| Tennis | Motor Racing | Cycling |
| Football | Rugby | Futures |
The types of bets available vary for each sport, but include all of the major markets plus a little more including, parlays, money lines, straight bets, point spreads, teasers, pleasers, over/unders, futures, if bets, reverse and props.
We noticed is how much they lay their focus on major US sports, although not too different than other  legal U.S betting sites like Bovada and their lack of markets outside of U.S sports. If you want the best range off world sports markets, we suggest 5Dimes.
They also offer a range of non-sports related markets, available in the entertainment section.
One thing we liked was that above the sports categories in the LHS menu were the following four sections:
Today's Events
Today's Live Betting
Most Popular
Closing Soon
The last two, "Most Popular" and "Closing Soon", are especially good, with the "Closing Soon" our favourite.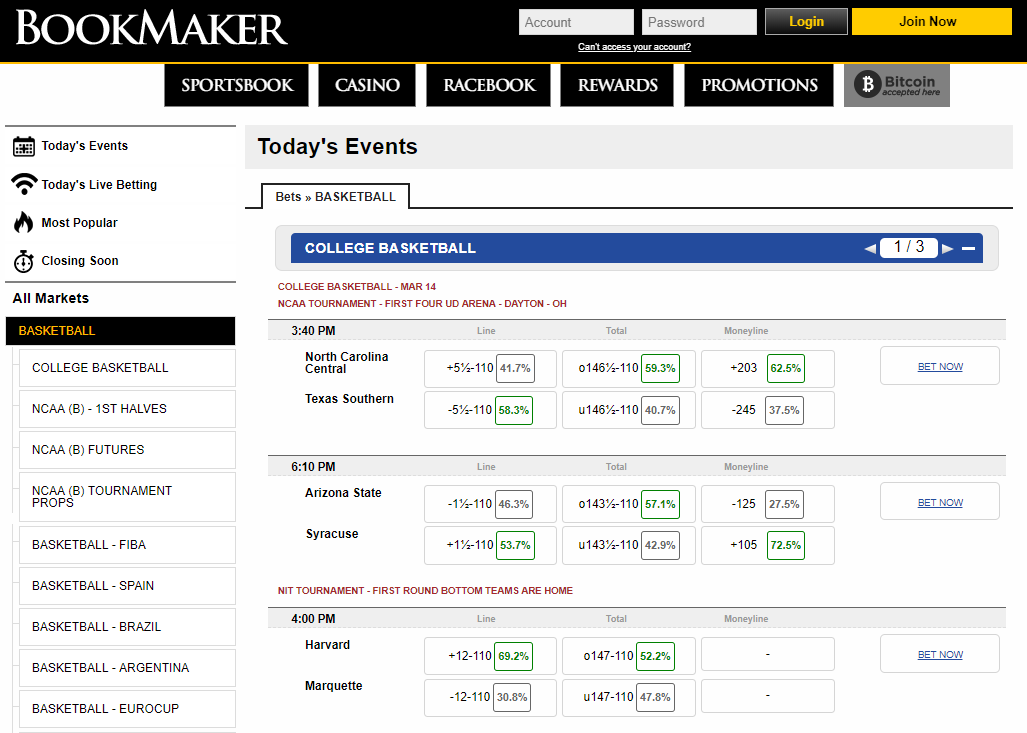 It's nice to see that they have Live Betting, but sadly, we weren't able to see it in action because you can only navigate the features when a game is live. As seen below…
If no games are live, all you can see is a list of the schedule. While this okay for existing customers, new visitors would surely like to play around around with the platform before committing to a registration.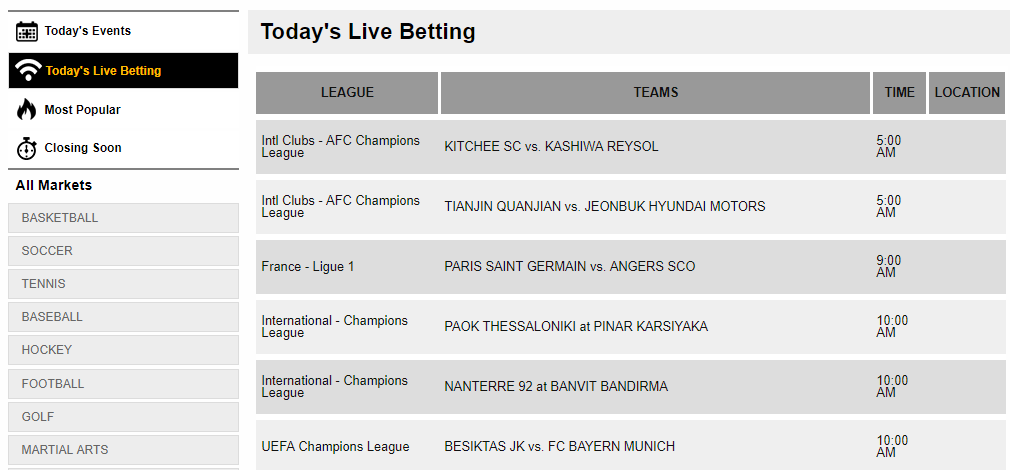 Bookmaker Sportsbook Live Betting
---
Betting Limits
Professional sports bettors agree where to head when looking for a legal sportsbook. This is because Bookmaker.eu offer the highest limits. Bettors can bet as much as $50,000 per contest, which is around 20 times the maximum bet that many other online sports betting competitors offer.
Just as important for professional and winning bettors is the knowledge that Bookmaker.eu will not chop players' limits when they are winning.
Most other online sportsbooks will eventually limit the amount of money players can bet with per play after they win a certain amount. This is unfair, and the fact that Bookmaker is one of the few sportsbooks to not to engage in this practice highlights them as one of the best for the long-term, serious bettor.
These limits are always changing, so refer to the Bookmaker.eu wager wager limits page for the latest information.
---
Deposits and Withdrawals
There is a solid selection of options for both deposits and withdrawals.
Deposits –
Amex     
$25 min/$499 max | $2,000 daily, $4,000 weekly, $8k,000 monthly
Visa     
$50 min/$2,500 max | $2,500 daily, $5,000 weekly, $10,000 monthly
MasterCard
$50 min/$999 max | $4-$20,000 monthly
Verified by Visa     
$2,000 daily, $4,000 weekly, $8,000 monthly
Bitcoin     
$10 min/$50,000 max | Get loyalty program upgrades and free payouts when using bitcoin.
Neteller     
$100 min/$10,000 max
ECO     
$100 min/$1,000 max
Bank Draft     
$5,000 min/no max | No personal checks. Cashier or certified checks only.
Person to Person     
$100 min/$2,000 max | Fees on deposits less than $300.
Bank Wire     
$2,500 min/no max
Withdrawals –
Neteller     
$100 min/no max | 2-3-day turnaround and $25 fee on cash outs less than $8,000.
Person to Person     
$100 min/$300 max | One request every 7 days. Takes 2-3 days. $25 fee.
Bank Draft     
$100 min/$3,000 max | One request every 7 days. Takes 7 days. $50 fee.
ECO     
$100 min/$1,000 | No fees.
Bitcoin     
$50 min/$50,000 max
Bank Wire     
$10,000 min/$45,000 max | Takes about 2 weeks to deliver. Fees are $600 to $900.
You can deposit with whichever method, however  when it comes to withdrawing your funds, it's best to use Bank Draft or Bitcoin as the fees are less or zero. Bookmaker.eu require that you play through each deposit once before a withdrawal is possible. This is standard practice and is done to prevent shady dealings such as money laundering.
---
Mobile Betting
Mobile betting is available for iPhone, BlackBerry, and Android users. Tablet wagering is possible on the iPad, Kindle, Galaxy, Playbook and others.
The mobile betting experience with Bookmaker is actually pretty good, and equal to if not better than some of their bigger competitors in the market.
Pages loaded quickly and it was relatively easy to navigate between sportsbook, poker and casino and onto the main markets to sub-categories.
Would recommend.
---
Bookmaker.eu SportsBook Promotions
50% CASH Welcome Bonus – Bonus up to $1,000, ONLY for Bitcoin deposits. 15x rollover and cannot be used to transfer cash into the poker area.
50% Welcome Bonus – Bonus up to $300 for Sportsbook and for the casino ($300 each). 10x rollover for sports and 40x rollover for casino.
Get a 25% cash bonus every time you re-load funds into your betting account using bitcoin or any crypto-currency.
8x rollover requirement on deposit amount + bonus before any withdrawals can be made..
Need help depositing using bitcoin? Click here or call 1-855-535-4947 for assistance on making your first bitcoin deposit.
---
The Bookmaker.eu BetPoints Program
The Bookmaker.eu BetPoints Rewards program allows bettors to accumulate points and turn their betting into prizes.
The program is free to use once you open an account, and when points are earned, they can be used to redeem cash back, gift cards, flight coupons, store credit, handicapping services, and tournament entries as a means of rewards.
This benefits the high volume bettors the most, while the average bettor would have to wait quite awhile before accumulating enough points to be worthwhile.
Rewards Levels – 
Get a 10% cash bonus (up to $400) on every reload.
Bonus has a 4 time rollover (on deposit amount + bonus) before any payout can be requested.

Get a 15% cash bonus (up to $600) on every reload.
Bonus has a 5 time rollover (on deposit amount + bonus) before any payout can be requested.

Get a 20% cash bonus (up to $800) on every reload
Bonus has a 5 time rollover (on deposit amount + bonus) before any payout can be requested.

How are BetPoints Calculated?
How Are BetPoints Earned? - Click to expand
Exchange your BetPoints for Cash –
BetPoints Cash Exchange Table - Click to expand
---
Our Final Verdict
With the amount of time that Bookmaker.eu has spent in the online wagering game, they must be doing something right.
They come across as old-school bookmakers who like to focus on the $ side of the betting game, rather than developing amazing features and website upgrades, and that's okay, it's part of their charm.
If you're a serious bettor who likes to throw plenty of bankroll around, Bookmaker are for you, if you occasionally like a bet and don't throw too much money around, perhaps a site like Bovada would suit you a little more.
Overall, if you are a big-time bettor, go with Bookmaker.eu.
Pros / Cons
A variety of deposit and withdrawal options for U.S residents
The highest betting limits of all the online sportsbooks.
They won't ban winners or change their betting limits for winning bettors.
Easy to navigate and place bets online and on both desktop and mobile.
Odds are often first to market.
Live Betting platform could use a bit of an upgrade.
Their odds do not compete with some of the other sportsbooks.

50% Bonus up to $1,000 with your first deposit
Play now