2018 SportsBetting.ag Review

Bonus
50% Bonus up to $1,000 with your first deposit
Free spins
Enjoy the ground breaking Player Props product and create your own props!
Play now
Overview
Player Props: Create your own player prop markets for sports. Fantastic product.
Live Betting: A sleek interface allows for fast betting on real-time action.
Withdrawal & Deposits: A variety of methods, including crypto.
Promotions: 75% bonus on your first deposit up to $1,000 plus 25% recharge bonuses.
2018 Sportsbetting.ag Sportsbook Review
Below is a current review of the Sportsbetting.ag Sportsbook, a short history of Sportsbetting.ag, and what you can expect when using Sportsbetting.ag as your online sports betting site.
This Sportsbetting.ag review will be updated frequently.
---
Who are 

Sportsbetting.ag

?
SportsBetting.ag began accepting online wagers way back in 1999, it seems so long ago… and is.
It's estimated that over 1 million clients have created betting accounts with Sportsbetting.ag since then.
The brand is ranked one of the best online sportsbooks for U.S residents, although their reputation wasn't always as shiny as it is now. Up until 2012, there were quite a few reports of them not paying out customers and trying to deny bonuses.
That's been taken care of since BetOnline took majority ownership of Sportsbetting.ag. After buying SportsBetting.ag, BetOnline dove into the financials and discovered that $1.5m plus in payouts were owed to SportsBetting.ag's players.
That's all been taken care of now.
Sportsbetting.ag are one of the few all-in-one gambling sites.
Clients can bet on sports, play poker and casino games. They also offer bingo and financial betting for those who like to dabble in the less mainstream.
They accept US customers – from all 50 states.
Since BetOnline acquired Sportsbetting.ag, they have been committed to rectifying the poor standing with players and giving back what was owed. BetOnline really have whipped SportsBetting.ag into shape, which has resulted in a massive decrease in player complaints.
It's hard to find an online betting site that offers an extensive sportsbook, poker, casino games and bingo while doing a good job at all of them. Sportsbetting.ag offer very good variety in all areas, and that's why we like them.
In saying all that praise, each of the Sportsbook, Racing and Casino offerings can be improved.
If an all-in-one gambling site that accepts players from all 50 states is what you're looking for, we recommend these guys.
---
The Sportsbetting.ag Sportsbook
Betting markets are broken into two sections – "Main Sport"s and "Other Sports".
The following are included:
Sportsbetting.ag Sport Categories
UCF/MMA
Golf
Olympics
Curling
Cricket
Football
Baseball
Boxing
Entertainment
Horses
Rugby
E-Sports
Snooker
Darts
Cycling
Volleyball
Aussie Rules
Handball
Gaelic Games
Auto Racing
Badminton
Futsol
The LHS menu makes navigating the site simple, with an accordion style category section that expands to show leagues for each sport.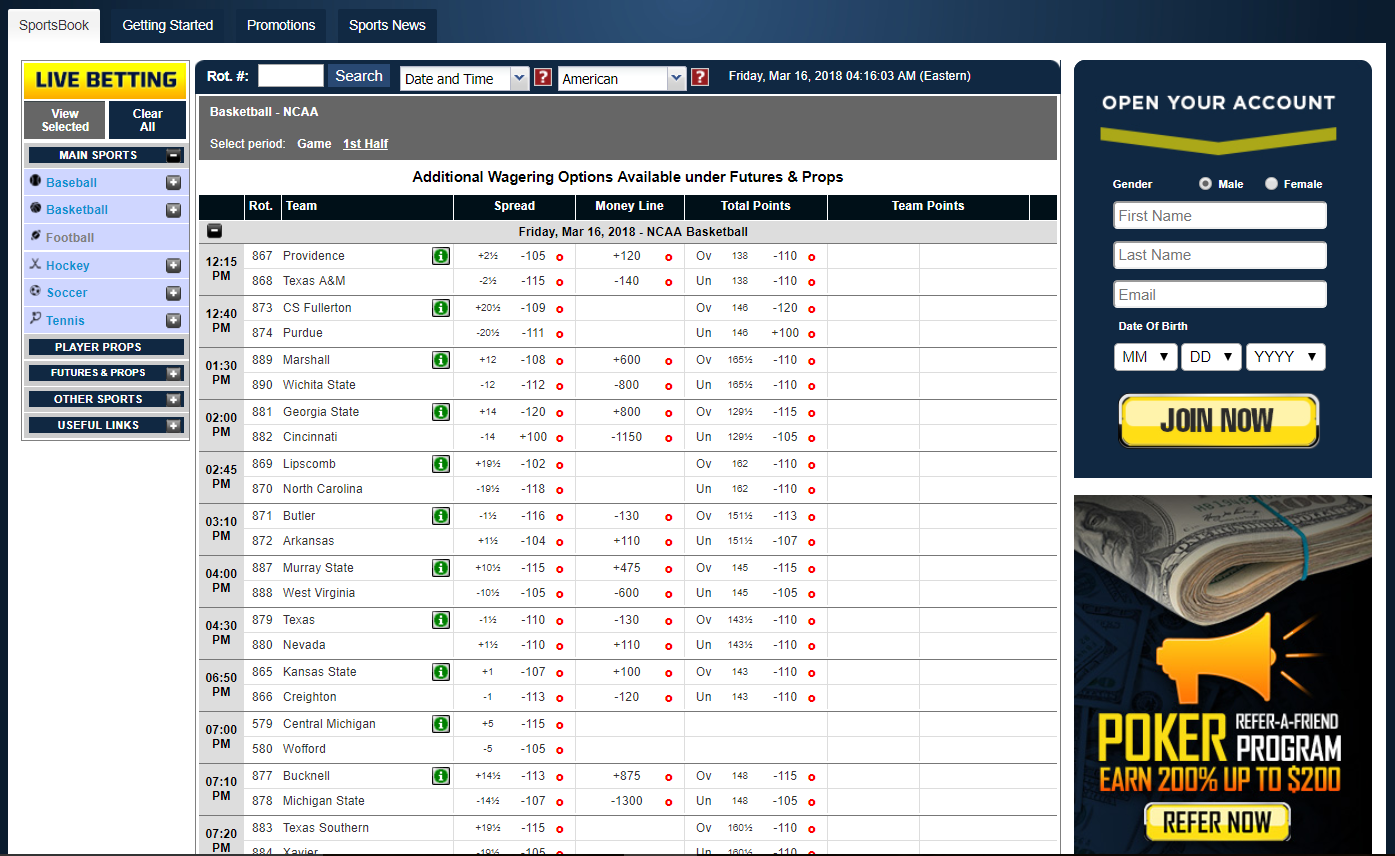 ---
Live Betting
As a leading online sportsbook, SportsBetting.ag has launched an awesome Live Betting platform.
The interface is an interactive console, which ueses java and flash. This allows clients to bet on real-time odds while the action taking place in real time. Bettors bet on the action well after the start on an event in order to maximize profits and excitement.
Sportsbetting.ag's Live Betting is a unique experience, taking the traditional online sports betting experience to another level and it's about time somebody did it well.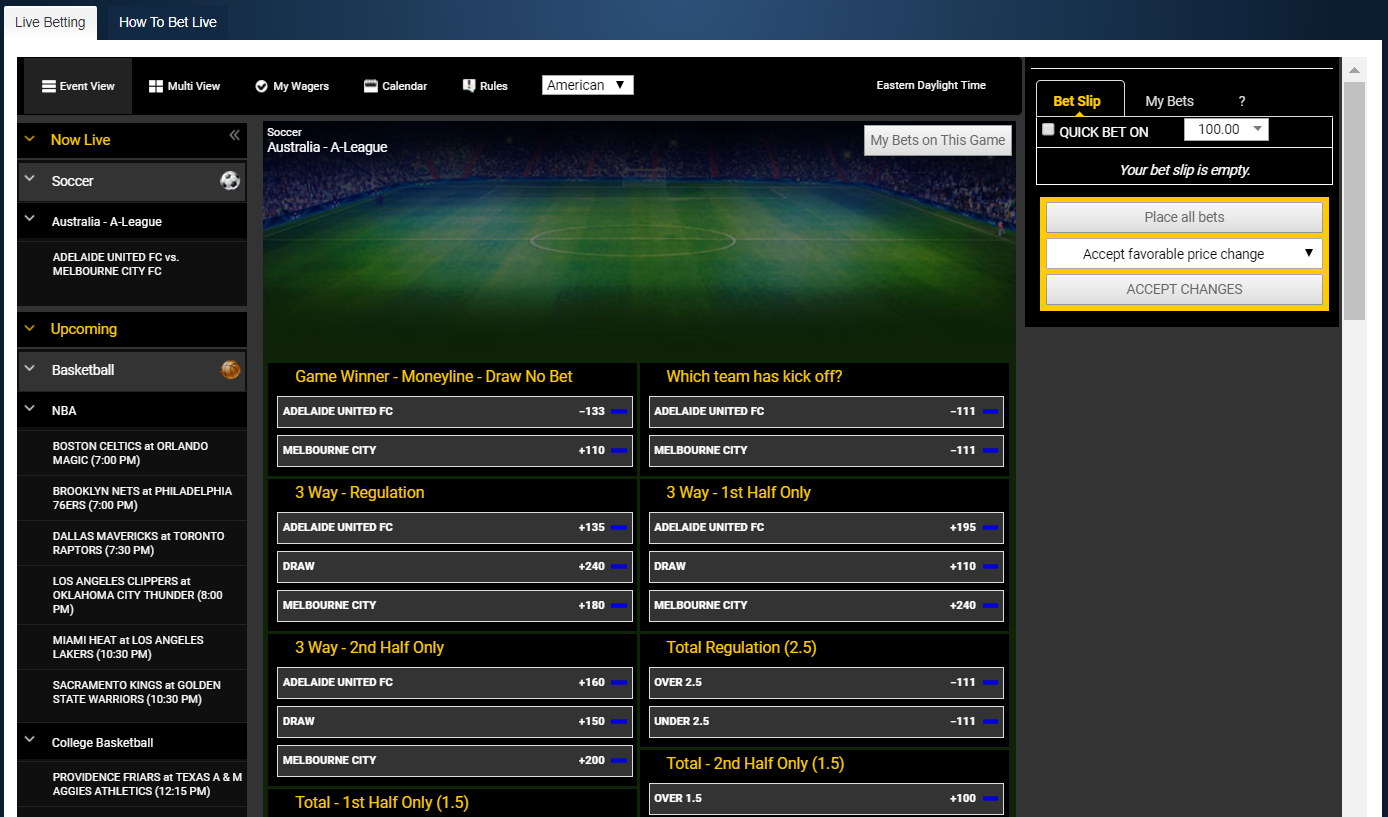 ---
Player Props Betting
Our favorite feature of the site, and one of the most exciting and creative prop markets in wagering!
With Player Props, each sport will include their own stat categories, however not all players for a particular game are shown, due to the fact that sometimes it is necessary to wait until the day of, or the night before an event to see the final team lineups… also some players are just not worth including.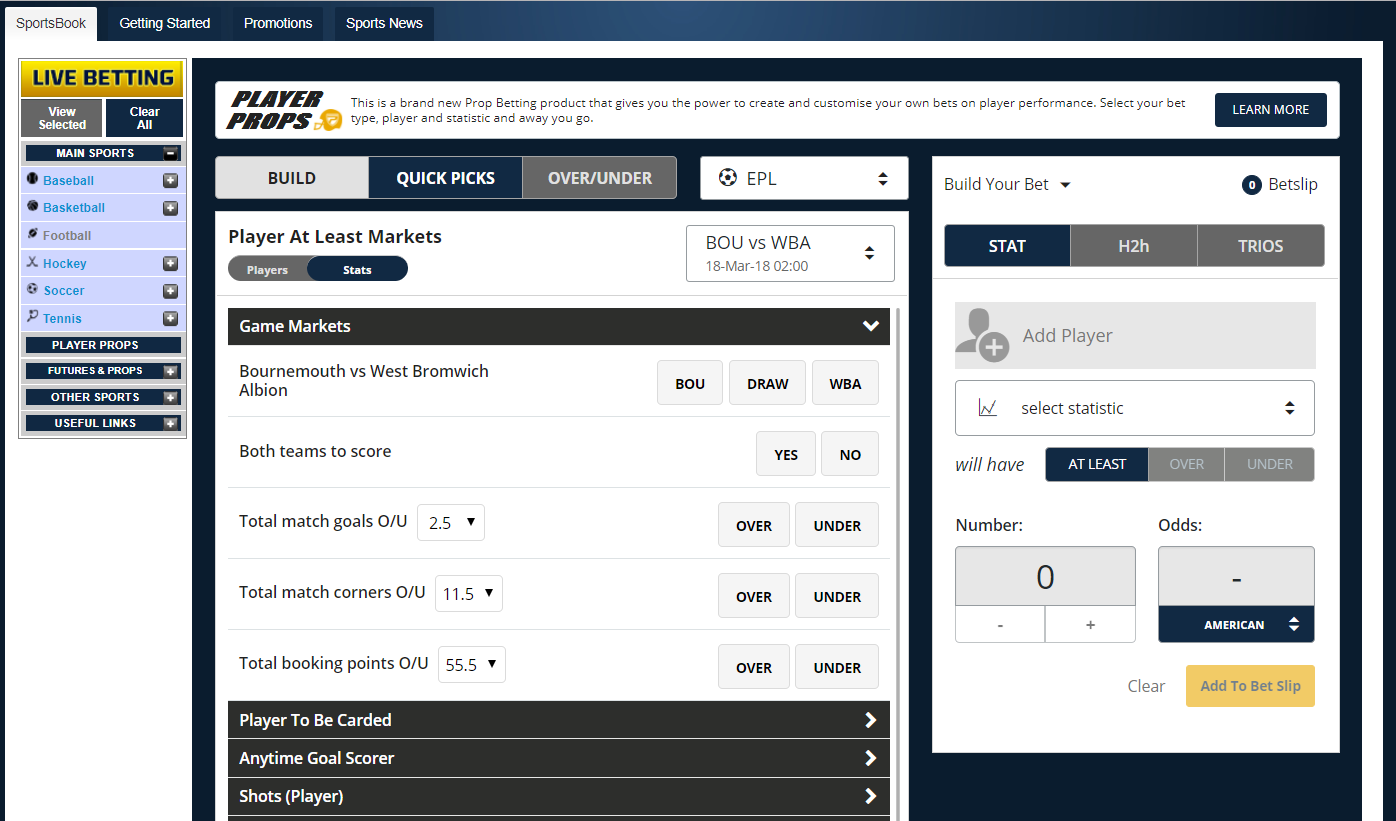 For an NBA example, there are basically 3 different types of bets that you are able to take, we'll us Points for this example:
Single 'Statistic' Player Bet – Select a single player to score a certain number of points.
'Head to Head' Player Bet – Player A will score more points than Player B
'Head to Head to Head' Player Bet – Player A will score more points than Player B and Player C.
Combined 'Statistic' Player Bet – Player A + Player B will score X amount of points.
There are different variants of these for each sport.
An absolutely fantastic product, and of of the true genuinely unique, customisable betting experiences online today.
Worth registering with Sportsbetting.ag for this alone.
---
Sportsbetting.ag
Betting Limits
The minimum wager is $1.00. The maximums vary by sport, but are pretty high it seems, which is important for sharp bettors. Here is a brief betting limit overview:
The bigger the league, the higher the limit money line, totals, spread, and live bets.
NFL betting limits vary depending on the game day, with limits are higher for Thursday -> Sunday games and the Superbowl than pre-season and Monday football.
NBA spread betting is capped at $10,000, while money line and totals max out at $5,000.
MLB limits are steadier, with the maximum bets you can place on the run line and totals being $5,000 a single game, and $10,000 on the money line.
Once a limit has been reached, it can re-bet every time the odds move.
Live Betting limits vary depending on sports and leagues.
Refer below for further information –
Full list of Sportsbetting.ag betting limits by sport
---
Deposits and Withdrawals
Deposits –
Visa – min $25/ $5000
Bitcoin – min $20 / $3500
Litecoin – min $25 / $10,000
MasterCard – min $25/ 5,000
Book to Book – min $500 / no max
American Express – min $25 / $2500
Person to Person – min $50 / $600
Skrill – min $10 / no max
Check – min $1500 / $24,900
Bank Wire – min $1000 / no max
Money Order – min $300
Withdrawals –
Person to Person –  min $50 / max $400 / fees $26 to $101 / 5 business days
Bank Wire – min $500 / max $24,900 / fees $45 to $75 / 10 business days
Check by Mail – min $500 / max $2500 / fees $25 / 30 business days
Check by Courier – min $500 / max $2500 / fees $35 / 15 business days
Check Express – min $500 / max $2500 / fees $50 / 7 business days
Bitcoin – min $20 / max $5000 / fees Free / 48 hours
Litecoin – min $25 / max $10,000 / fees Free / 48 hours
Skrill – min $25 / max $9990 / fees $20 / 36 hours
Book to Book – min $500 / max $24,900 / Contact Support / 24 hrs
---
Mobile Betting
The Sportsbetting.ag mobile responsive site loads and processes bets quickly and is well designed for those who like to bet on the go.
One click gets you to the most popular markets and it has easy-to-click links in the top navigation which take you to various sports, live wagering, deposits, and your account section. The buttons are large enough to easily click, with keys available to hide various menus that you are not using.
When you go to an individual sports market, the entire page of markets loads at once, so there is no lag as you scroll down the screen. The mobile home for Sportsbetting.ag may be better than the full website if all you care about is usability.
The aim of mobile betting is the ability to find markets and place bets quickly and easily, and that is exactly what the responsive mobile site allows.
---
Sportsbetting.ag SportsBook Promotions
Sportsbook Bonuses
There are a large range of promotions, cash back and deposit offers including the following –
75% Welcome Bonus – 75% match on your first deposit up to a max of $1,000. This is a free play bet with a 12x rollover. Only available on the sportsbook.
$25 Free Live Bet – Of your first live bet loses, you'll be refunded up to $25. (6x rollover.)
50% Kickoff Reload Bonus – 50% reload bonus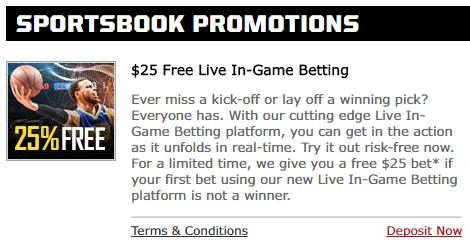 up to $1,000. (10x rollover, Sportsbook only).
100% Cryptocurrency Bonus – If you've never made a deposit with Bitcoin, ethereum, DASH or Litecoin before, you can earn 100% Bonus on your first-ever deposit from just $20 all the way up to $1,000.
NHL Reduced Juice – 10-cent NHL lines.
MLB Dime Lines – Dime lines up to -194 during the MLB season, all the way through to the end of the World Series.
$50 Free Mobile Bet – Make your first mobile sports bet and if you lose, you'll receive a reimbursement up to $50 (6x rollover).
$25 Free Horse Bet – Make your first bet in the Racebook and if your bet loses you'll be reimbursed for your loss up to $25. (6x rollover).
A solid selection of promotions and free bets that change with the sporting and racing seasons.
---
Our Final Verdict
To be honest, a while ago we weren't big fans of these guys, however over time we've seen the innovation they've brought, inlduing their great new Live Betting interface and their Player Props feature. The adding and upgrade of these feataures shows us that Sportsbetting,ag really are trying to innovate and improve the online sportsbook market.
At this stage we would recommend them over their big brother BetOnline.ag.
Much improved and much recommended.
Pros / Cons
Player Props. Create your own player props markets. Great fun.
A variety of deposit and withdrawal methods.
One of the best Live Betting platforms on the market.
A dodgy past has some people skeptical of their current state.

50% Bonus up to $1,000 with your first deposit
Play now